Incontinence and associated health risks 
People who have problems controlling their urine or bowels (called incontinence) are at risk for skin problems. The skin areas most affected are near the buttocks, hips, genitals, and between the pelvis and rectum (perineum).
Excess moisture in these areas makes skin problems such as redness, peeling, irritation, and yeast infections likely, he or she is then at risk for incontinence-associated dermatitis (IAD), which can result in discomfort, loss of independence, disruption in daily activities, embarrassment, and a reduced quality of life.
Bedsores (pressure sores) may also develop if the person spends most or all of the day in a wheelchair, regular chair, or bed without changing position.
According to Continence NZ
1.1 million New Zealanders have difficulty controlling their bladder and bowel
In New Zealand incontinence associated dermatitis (IAD) plays a significant impact on our elderly, disabled and hospitalised with the reported prevalence up to 50% depending on the population
◦Pads may help people with bladder control problems to catch the leaking urine.
◦Help may also be needed to choose the right pad or equipment for a particular bladder control problem and to protect skin and prevent bad smells.
◦ Bladder control or wetting problem are not just because of being old and almost always things can be done to improve the bladder control problem.
 Treatment Guidlines
Using absorbent products in combination with frequent garment changing will help keep skin dry and prevent fungal dermatitis.
Absorbent incontinence products, such as pads or briefs worn by the patient and pads placed on the bed or chair, quickly wick moisture away from the skin to reduce IAD risk.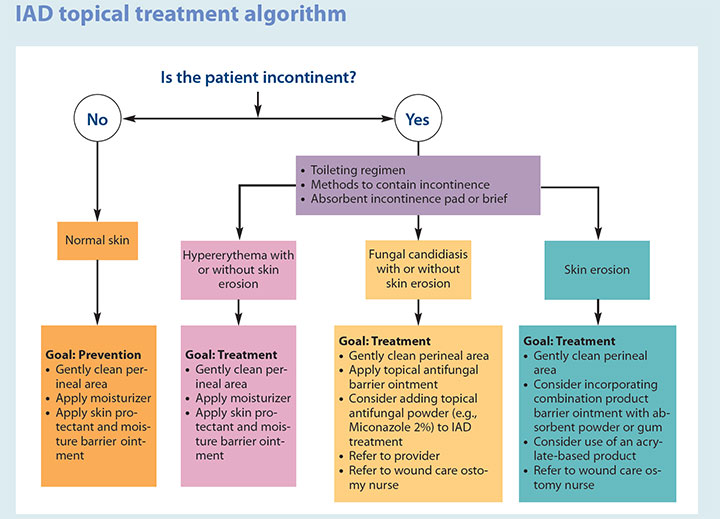 Prevention 
Pinkies are developed as an effective solution for preventing moisture build up during sitting, sleeping or surgical events.
Pinkies have been constructed from non-woven PAA material with a high water absorbing resin and pink waterproof PE backing.
Crystals have been sandwiched between the "quilted" fabric layers and will absorb liquids.

Includes 4 adhesive tabs for secure positioning.

The material is kind to the skin – the patient will feel dry.

Pinkies are disposable and environmentally friendly.

Hygienic and saves on laundry bills.
Find pinkies here 
 Skin barrier treatment
Moisturiser- Alhydran 
(Alhydran®) is a moisturiser which increases skin hydration and reduces abundant TEWL and contribute to the preservation of an adequate skin barrier function and finally will improve Quality of Life in patients with a disturbed skin barrier function in different pathologies.
 Find Alhydran here