MD One®- Stainless Steel Stethoscope
MDF® Instruments has been crafting stethoscopes, sphygmomanometers, and reflex hammers since 1971. With our passion, innovation and style, we are honored to be recognized for our multiple US patents, famous Rose Gold stethoscopes, Mprints stethoscopes and unique titanium stethoscopes. 
The MDF® MD One® stethoscope is a premier diagnostic instrument, known for its performance, durability and aesthetics. Constructed from acoustically-superior stainless steel, MD One® delivers accurate auscultation of heart, lung and Korotkoff sounds with acoustics integrity and clarity, while its ergonomic design ensures comfort over longer shifts.
We also provide free stethoscope parts and a lifetime warranty on many of our products. 
 

TRUE BELL & TRUE DIAPHRAGM

Sound Judgement





Take the guesswork out of auscultation with our True Bell & True Diaphragm dual-head chestpiece. The bell side focuses on low frequency sounds (20Hz-100Hz) while the Ultra-sensitive Diaphragm handles high frequencies (100Hz-1000Hz).

DENSER, LONGER TUBING

Sound Barrier





Our flexible, latex-free tubing is thicker and longer to block out external noises, and provide a safer distance between you and your patient.

ERGONOMAX™ HEADSET

Sound Fit





Our patented ErgonoMax™ headset is pre-angled and tension adjustable, allowing for a tailored fit. The dual-leaf spring adds a second layer of durability, ensuring the structural integrity of the headset and prevents breaking when tension is increased.


Pat No. ZL 200820155127.0

ACOUSTIC PYRAMID CHAMBER ™

Sound Design





Our Acoustic Pyramid Chamber™ keeps the stethocope tube from kinking or compressing while you work around your patient, to ensure a clear and open channel.

SAFETYLOCK™

Safe & Sound




Our patented SafetyLock™ prevents accidental puncturing of the eardrum from loose eartips coming off during your practice.


Pat No. ZL 201020279423.

CLEAR SILICONE EARTIPS

Sounds Comfy





Our ComfortSeal™ eartips provide you with the perfect fit. All MDF® stethoscopes come with 3 sizes of eartips in small, medium, and large. Pliable silicone material allows the eartip to compress slightly creating a better sound seal.

PERSONALIZED ENGRAVING

Sound Mark




Laser engrave the chestpiece with a message of your choice, making it easy to identify and personalize for you, or a loved one.




FREE-PARTS-FOR-LIFE℠

Sound Investment





With our Free-Parts-For-Life Program, request replacement eartips, diaphragms, non-chill rings, retaining rings, and name tags anytime online and we will ship them out to you for free.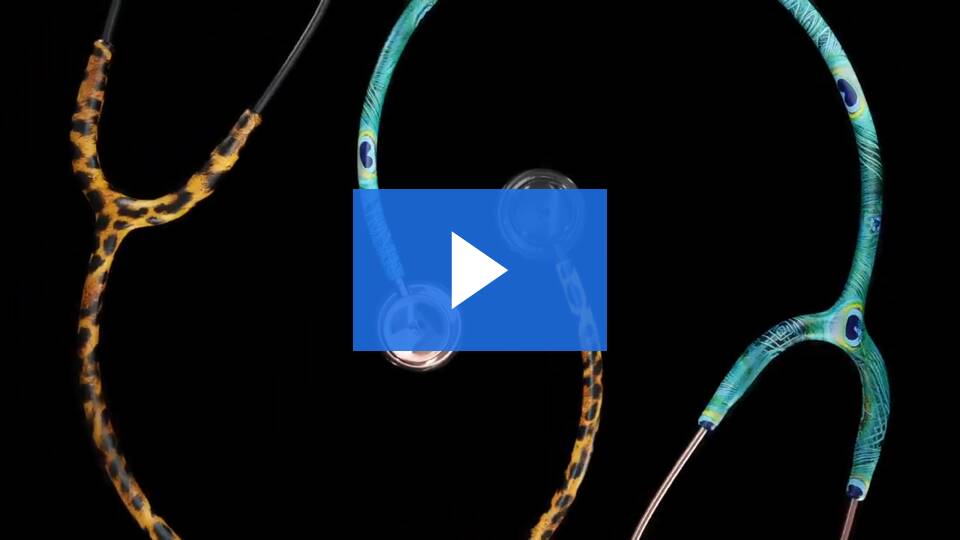 Best website to buy a an upscale stethoscope for good prices
Amazing product, I practice taking blood pressure with this and I have no problems at all. Thank you so much!
I would definitely buy another one
This product is amazing. I can hear so much clearer with this one.
Stethoscope MD one Gold
Great instrument. Nice feeling and colour.
Highly Recommend
I highly recommend this product
Stethoscope ❤️🩺
The quality is great, the style represents me, and the sound clarity is excellent!!! I purchased one in white. Absolutely love!